Care and Trial Site Registry Newsletter June 2014
Welcome to our new newsletter that will cover recent developments in the Care and Trial Site Registry.

The capabilities and information in the CTSR are much in demand. Recent activities around the CTSR include:

recruitment of participants for a study on unexplained limb‐girdle weakness (see the MYO-SEQ project below)

an ongoing survey for Action Duchenne in the UK (if you are from the UK and have not filled out the specific Action Duchenne questions, please do so!) - Action Duchenne is a parent and patient led charity dedicated to raising funds and awareness for Duchenne muscular dystrophy. As part of their work to ensure that all families have access to the internationally agreed standards of care for Duchenne, they are seeking to learn more about the overall provision of care and clinical trials being conducted across the UK.

a new feature, the PhenoSearch, was implemented. The goal of PhenoSearch is to connect researchers that have patients with similar phenotypes (for more information see below)
preliminary enquiries for feasibility studies on Duchenne and SMA treatment have been received. Especially for SMA there is increasing clinical trial activity. So please keep your data up-to-date.

Moreover, the homepage of the CTSR has recently been expanded to show a list of all sites per country registered in the CTSR. The Google map now depicts all sites registered in the CTSR.


---
The MYO-SEQ project: the CTSR made it possible
There are a number of specific challenges at every stage of rare disease (RD) therapy development: incomplete knowledge and understanding of disease prevalence and disease course, genotype‐phenotype correlation, modifying factors, response to treatment, potential side‐effects, as well as difficulties in accessing biomaterials and identifying patients. In the neuromuscular field, that last specific challenge has become less cumbersome thanks to the existence of the Care and Trial Site Registry (CTSR).
About MYO-SEQ: Next Generation Sequencing (NGS) and other ‐omics technologies, in combination with powerful IT infrastructure and sophisticated bioinformatics tools, allows, in principle, the entire genetic profile (exome, genome) of any RD patient to be deciphered. It can also enable the integration of this information with clinical data (e.g. from deep phenotyping, ontologies, electronic health records) as well as data from clinical studies (such as response to treatment, side effects, pharmacogenomics) and biomarker studies (proteomics, metabolomics).
In this context, the neuromuscular team at Newcastle University has conceived the MYO-SEQ project that will focus on the application of NGS, in particular Whole Exome Sequencing (WES), in a large cohort of patients with unexplained limb‐girdle weakness (LGW). Focusing on undiagnosed patients with a clearly defined clinical phenotype will enable increased diagnostic rates for disease causing mutations in known genes in this cohort, while the use of WES provides scope both for new gene discovery and for additional research into disease modifiers and genotype‐phenotype correlation with substantial cost effectiveness.
The initial inquiry to test the feasibility of the study was carried out with a short questionnaire publicized via the CTSR. The excellent response from the CTSR affiliated clinical centres has directly resulted in the engagement of private and non-for-profit funders to support the execution of the project that is expected to start in August 2014. In 55 European centres more than 1000 patients will be sequenced in the next year and a half.
If you have questions about MYO-SEQ or would like to participate, please contact Monica Ensini (monica.ensini@ncl.ac.uk)
The CTSR has proven here quite clearly its capability to galvanize interest and collaboration efforts that can then be translated into action in a fast and effective way.

---
PhenoSearch - Matching undiagnosed cases with unusual phenotype through the CTSR
The new PhenoSearch facility within the Care and Trial Site Registry (CTSR) means that you can now enter free-text information in order to seek and contact colleagues who see patients or families with a similar phenotype. As a registered centre in the CTSR, you will also be able to view cases already posted and identify those of interest to your research where collaboration might be possible.
This is a really important and significant expansion of the CTSR which will make it easier for researchers and clinicians across the world to share information about puzzling cases or undiagnosed patients and which will facilitate collaboration between groups through 'match-making' those with similar cases. First cases have already been published by Volker Straub, Francesco Muntoni and Enrico Bertini.
PhenoSearch allows you to list a working diagnosis, description of clinical phenotype, results of any investigations, mode of inheritance and photos. Other members of the CTSR will be alerted to the new post by email and can view the full details securely by logging in.
Now that the CTSR has been extended to include sites which see neurodegenerative patients as well as those with neuromuscular disease, PhenoSearch will be of great benefit within and across both these disease fields.
The addition of this new facility and the expansion of the CTSR to cover neurodegenerative conditions was undertaken as part of an EU FP7-funded research project into rare neuromuscular and neurodegenerative disease Neuromics.
To find out more about this development of the registry, to view posted cases or to submit details of your own patients, simply log on to your CTSR account and select the 'PhenoSearch' option from the left hand menu.
If you have any technical questions, please contact Kirsten König (kirsten.koenig.studienzentrum@uniklinik-freiburg.de). For general queries about Neuromics, contact Cathy Turner (catherine.turner@ncl.ac.uk)
---
Some statistics
The number of sites registered in the CTSR is continually growing, as is the number of patients cared for by the sites. The CTSR database now holds information on 310 centres in 45 countries with an overall count of 50,400 reported patients.Since the expansion of the CTSR to cover the neurodegenerative diseases in September 2013, 5000 new patients can be accessed via the sites registered in the CTSR.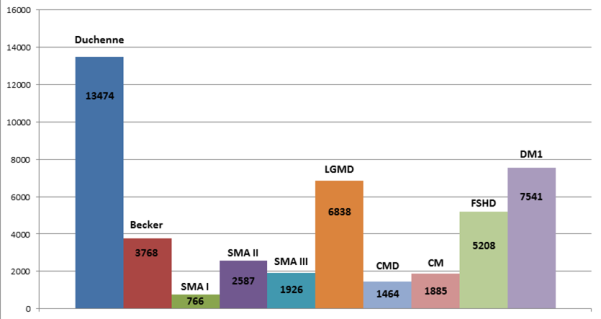 The diagram shows patient numbers seen at neuromuscular sites in the CTSR

---
If you have any questions or suggestions concerning the CTSR, please contact us at ctsr@uniklinik-freiburg.de.

We are looking forward to a continuous and productive collaboration.
Best regards,
Jan Kirschner (Principle investigator)
Kirsten König, Adrian Tassoni (Coordination and IT)